BATI LEATHER GOODS, HAND-STITCHED IN PARAGUAY
Elevate the Ordinary. That's our ethos. We take ordinary items that people use every day and elevate the aesthetic by wrapping them in leather. We're known for our hand-stitch finish, which you'll see on all of our goods. This stitch technique has been kept under lock and key by our family of leather artisans in small village in the Paraguay for decades, and holds the secret to getting into tight spaces and wrapping items in leather that you wouldn't otherwise be able to with a machine.
Our goods are made with soft, vegetable-tanned cow leather and bare the natural imperfections of the hide. They develop a beautiful patina over time depending on use, care, and sun exposure. Each one is truly unique and reminds us to embrace our scars instead of hiding from them.
In Paraguay, the country's overwhelming natural beauty is overshadowed by its crippling poverty rate, which hovers above 40%. Its people are resourceful, humble, and make the most out of what they have. In creating Bati, we hope to use our leather goods as a vehicle to show the world the beauty Paraguay has to offer and to tell the inspiring story behind the students of The Macchi School, who we support with proceeds by subsidizing college tuition costs.
paraguay ✈️ Los angeles
From the depths of the Paraguayan jungle to the bright lights of Hollywood, our journey has been full of adventure at every turn. We've uncovered some of the world's finest diamonds in the rough, and we'd love to tell you about it over some maté.
Our story
ORDINARY GOODS, ELEVATED
Our ethos? Elevate the ordinary. We take items we use every day and elevate the aesthetic by incorporating a leather component with our hand stitch. The hand-stitch technique, held under lock and key, is our secret sauce and allows us to get into the tight spaces that you can't get to with a machine.
Shop Home Decor
HOST WITH SWAGGER
Hosting amigos this summer? Our leather goods shine brightest under the sun, so make use of those long days. Use, exposure to the sun, and conditioning with mink oil help the goods develop a gorgeous, natural patina.
Shop housewares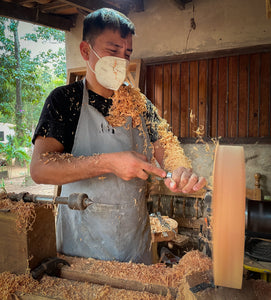 handmade, from start to finish
Bati works exclusively with local artisans who have been working with leather and wood for over 100 years. Our attention to detail during the handmade process is the foundation for the beauty behind our minimalist designs. Our cedar + leather collections are some of our most renowned due to the quality of the matierals used, the time it takes to finish a piece, and the intoxicating, natural aura the product emits once finished.
Tell me more
Each sale helps a Student in Need
Behind each good is an even better story of a student born into poverty trying to make a name for himself. Bati uses proceeds to help disadvantaged Paraguayan youth on their quest to earn a college degree.
HOW WE HELP